Overview of jaipur
Jaipur, known as the Pink City, is a mesmerizing gem nestled in the heart of Rajasthan, India. Steeped in rich history, this enchanting city offers a captivating blend of royal grandeur, vibrant culture, and architectural marvels. The city's hallmark, Hawa Mahal, stands tall with its honeycomb-like facade, allowing cool breezes to sweep through its numerous windows. The majestic Amber Fort, a UNESCO World Heritage site, boasts intricate carvings and panoramic views of the surrounding Aravalli hills.
Jaipur is a shopaholic's paradise, with bustling bazaars showcasing exquisite handicrafts, traditional jewelry, and colorful textiles. Indulge in the flavorsome Rajasthani cuisine, sample delectable sweets, and witness spellbinding folk performances. A visit to Jaipur is an immersive journey through time, transporting you to a bygone era of royalty and splendor.
History of jaipur
Jaipur, the Pink City of India, was founded in 1727 by Maharaja Sawai Jai Singh II. This visionary ruler planned a new capital that would reflect the grandeur of his kingdom. Designed by expert architects, Jaipur became a marvel of town planning, with wide roads and splendid palaces and forts. The city's unique pink sandstone buildings, still preserved today, earned its charming nickname. Jaipur flourished as a center of art, culture, and commerce. From the opulent City Palace to the scientific wonder of Jantar Mantar, Jaipur's history is one of valor, architectural brilliance, and a legacy that captivates visitors to this day.
Why it is called a pink city?
Jaipur is known as the Pink City due to the predominant use of pink sandstone in its architecture. The unique rosy hue of the buildings gives the city its distinctive charm. The origin of this color dates back to 1876 when Jaipur was preparing to welcome Prince Albert, the consort of Queen Victoria. In order to give the city a grand and welcoming appearance, Maharaja Ram Singh ordered the buildings to be painted in pink, as it symbolizes hospitality in Rajasthani culture. The tradition has been maintained since then, making Jaipur a picturesque destination and earning it the moniker of the Pink City.
Famous Things About Jaipur
Jaipur, often referred to as the "Pink City," is a city rich in history, culture, and architectural marvels. Here are some famous things about Jaipur:
Rich Cultural Heritage:Jaipur is steeped in history and showcases a vibrant cultural heritage. The city's architecture, arts, crafts, music, and dance reflect the essence of Rajasthan's cultural traditions.
Palaces and Forts: Jaipur boasts impressive palaces and forts that offer a glimpse into its regal past. The City Palace, Hawa Mahal, Amber Fort, and Jaigarh Fort are among the must-visit attractions.
Pink Architecture: The city's unique pink sandstone architecture gives it the nickname "Pink City." The buildings' color represents hospitality and welcome, and strolling through the pink-hued streets is a delightful experience.
UNESCO World Heritage Sites: Jaipur is home to two UNESCO World Heritage sites - the Jantar Mantar astronomical observatory and the majestic hilltop fort of Amber.
Shopping Paradise: Jaipur's bustling bazaars are a shopaholic's delight. Explore Johari Bazaar for jewelry, Bapu Bazaar for textiles and handicrafts, and Tripolia Bazar for traditional Rajasthani items.
Festivals and Events: Jaipur celebrates its culture with colorful festivals like Diwali, Holi, Teej, and the famous Jaipur Literature Festival, which attracts renowned authors and literature enthusiasts from around the world.
Rajasthani Cuisine: Indulge in the flavors of Rajasthani cuisine, known for its spicy curries, dal baati churma (a traditional dish), and mouth watering sweets like ghewar and ladoos.
Folk Performances: Witness mesmerizing folk performances like the captivating Kalbeliya dance, vibrant puppet shows, and soul-stirring music that showcase Rajasthan's rich cultural heritage.
Gem and Jewelry Industry: Jaipur is renowned for its gem and jewelry industry. The city is famous for producing exquisite gemstone jewelry, and visitors can explore the gemstone cutting and polishing process.
Warm Hospitality: The people of Jaipur are known for their warm hospitality and welcoming nature, making visitors feel at home and creating lasting memories of their time in the city.
Some facts of Jaipur
Here are some interesting facts about Jaipur:
Planned City: Jaipur is one of the first planned cities in India. It was designed by Maharaja Sawai Jai Singh II and laid out according to the principles of Vastu Shastra, an ancient Indian architectural science.
Pink City: Jaipur is called the Pink City due to the predominant use of pink sandstone in its buildings. The color was chosen to welcome Prince Albert, the consort of Queen Victoria, during his visit in 1876.
UNESCO World Heritage Sites: Jaipur is home to two UNESCO World Heritage sites - the Jantar Mantar, an astronomical observatory, and the Amber Fort, an impressive hilltop fortress.
Largest Exporter of Gemstones: Jaipur is a major hub for the gem and jewelry industry. It is one of the largest exporters of gemstones in Asia, with skilled artisans creating stunning pieces of jewelry.
Hawa Mahal: The Hawa Mahal, or Palace of Winds, is an iconic landmark in Jaipur. It is a five-story palace with intricately carved windows that allows the royal women to observe the city's streets while maintaining privacy.
Elephant Festival: Jaipur hosts an annual Elephant Festival, where beautifully decorated elephants take part in a procession. This vibrant event showcases the rich cultural heritage of Rajasthan.
Largest Cannon on Wheels: Jaipur is home to the world's largest cannon on wheels, known as Jaivana. It was manufactured in 1720 and is displayed at the Jaigarh Fort.
Film Shooting Destination: Jaipur has been a popular filming location for Bollywood and international movies. The city's palaces, forts, and vibrant streets provide a captivating backdrop for films.
Puppetry Capital: Jaipur is considered the puppetry capital of India. The city has a rich tradition of puppet shows, with skilled puppeteers entertaining audiences with their performances.
Raj Mandir Cinema: Raj Mandir Cinema is a famous movie theater in Jaipur known for its grand architecture and opulent interiors. It is a popular destination for movie enthusiasts and a symbol of the city's love for cinema.
Places to visit in Jaipur
Jaipur boasts an array of magnificent palaces, forts, temples, and bustling markets. Visitors can immerse themselves in the royal heritage of the city, witness the exquisite craftsmanship, and indulge in the flavors of Rajasthani cuisine. Some of the must-visit places in Jaipur include:
Amber Fort (Amer Fort):
This majestic hilltop of Amer fort showcases stunning architecture, intricate carvings, and panoramic views of the surrounding landscape. Don't miss the chance to enjoy an elephant ride up to the fort.
Hawa Mahal:
Hawa Mahal Also known as the Palace of Winds, this iconic five-story structure features intricately latticed windows that allowed royal women to observe the city's streets. Admire its unique façade and learn about its historical significance.
City Palace:
Explore the grand City Palace complex, which includes magnificent palaces, courtyards, gardens, and museums. The blend of Rajput and Mughal architecture will leave you awe-struck.
Jantar Mantar: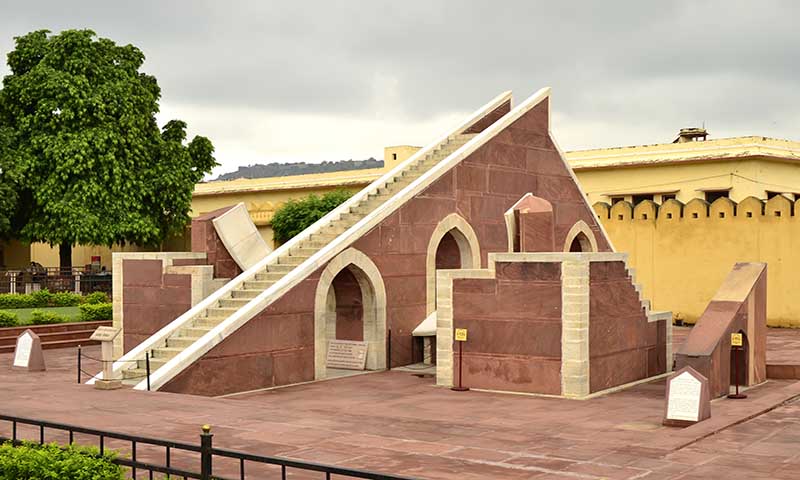 Visit the world's largest stone astronomical observatory The Jantar Mantar, built by Maharaja Jai Singh II. Discover the fascinating instruments used for measuring time, tracking stars, and predicting eclipses.
Nahargarh Fort:
Perched on the Aravalli hills, Nahargarh Fort offers breathtaking views of the city. Explore the fort's intriguing architecture, stroll through its gardens, and soak in the panoramic vistas.
Jaigarh Fort:
Known as the Fort of Victory, Jaigarh Fort boasts massive ramparts, palaces, and the world's largest cannon on wheels, Jaivana. Discover the fort's rich history and enjoy the scenic views.
Albert Hall Museum:
Immerse yourself in art and history at the Albert Hall Museum, housed in a splendid 19th-century building. The museum exhibits a vast collection of artifacts, including paintings, textiles, and sculptures.
Jal Mahal:
Experience the beauty of the Jal Mahal, a palace situated in the middle of the Man Sagar Lake. Admire its architectural elegance and enjoy the serene surroundings.
Bapu Bazaar and Johari Bazaar:
Indulge in some vibrant shopping at these bustling markets. Bapu Bazaar is famous for textiles, handicrafts, and traditional mojari shoes, while Johari Bazaar is known for its exquisite jewelry.
Chokhi Dhani:
Experience Rajasthani culture and hospitality at Chokhi Dhani, a village-themed resort. Enjoy traditional food, folk performances, camel rides, and other cultural activities.
Things to do in jaipur
Jaipur, the capital city of Rajasthan, offers a wide array of activities and attractions for visitors. Here are some popular things to do in Jaipur:
Explore the City's Historical Sites: Visit the magnificent palaces and forts like the Amber Fort, City Palace, and Jaigarh Fort. Immerse yourself in the rich history, intricate architecture, and breathtaking views.
Take an Elephant Ride: Experience a unique adventure by taking an elephant ride up to the Amber Fort. It's an enchanting way to ascend the fort's ramparts and adds a touch of regal charm to your visit.
Shop at Colorful Bazaars: Discover the vibrant markets of Jaipur, such as Johari Bazaar, Tripolia Bazar, and Bapu Bazaar. Indulge in shopping for textiles, handicrafts, jewelry, and traditional Rajasthani items.
Enjoy Traditional Rajasthani Cuisine: Delight your taste buds with authentic Rajasthani cuisine. Try dal baati churma, gatte ki sabzi, and other flavorful dishes. Don't forget to savor the mouth watering sweets like ghewar and ladoos.
Attend a Folk Performance: Witness the vibrant folk music and dance performances that showcase the cultural heritage of Rajasthan. Kalbeliya dance, puppet shows, and traditional music performances are not to be missed.
Visit Albert Hall Museum: Explore the exhibits at the Albert Hall Museum, which houses a vast collection of art, artifacts, and historical relics. Learn about Rajasthan's rich cultural heritage and admire the stunning architecture.
Discover the Astronomy at Jantar Mantar: Explore the Jantar Mantar, an astronomical observatory built in the 18th century. Marvel at the impressive instruments designed to study celestial movements and gain insights into ancient astronomy.
Enjoy Hot Air Balloon Ride: Get a bird's-eye view of Jaipur's architectural marvels by taking a hot air balloon ride. Witness the city's beauty from above as you glide over palaces, forts, and colorful streets.
Relax with Ayurvedic Spa: Indulge in a rejuvenating Ayurvedic spa treatment and experience relaxation and healing through traditional Indian therapies. Treat yourself to a soothing massage and wellness rituals.
Attend Festivals and Events: If your visit coincides with festivals like Diwali or Teej, immerse yourself in the vibrant celebrations and cultural activities. Also, check out the Jaipur Literature Festival, which attracts renowned authors and intellectuals from around the world.
Best restaurants to eat in jaipur
Jaipur offers a vibrant culinary scene with a variety of restaurants serving both traditional Rajasthani cuisine and international flavors. Here are some of the best restaurants to eat in Jaipur:
Jal Mahal at Trident Hotel:
Located at the Trident Hotel, Jal Mahal offers a delightful dining experience with its stunning views of the Jal Mahal (Water Palace) and serene surroundings. Enjoy a mix of Indian and international cuisines while basking in the beautiful ambiance.
Cinnamon-Jai Mahal Palace:
Set within the Jai Mahal Palace, Cinnamon offers a luxurious dining experience. Indulge in a range of delectable dishes from Indian, Rajasthani, and international cuisines while surrounded by the regal charm of the palace.
Karma Kasuri at Karma Haveli:
Karma Kasuri, situated in Karma Haveli, offers a charming rooftop dining experience with panoramic views of the city. Relish a variety of flavorful Indian and international dishes while enjoying the relaxed and cozy atmosphere.
Socorro:
Socorro is a popular restaurant known for its eclectic menu, serving a fusion of Indian, Asian, and European cuisines. The vibrant ambiance, live music, and delicious food make it a favorite among locals and tourists alike.
Market Place:
Located in Hotel ITC Rajputana, Market Place offers a unique dining experience with its vibrant street food-inspired menu. Savor a range of flavorsome dishes from different regions of India, all in a lively marketplace-themed setting.
Govindam Retreat:
Govindam Retreat is a vegetarian restaurant known for its tranquil garden setting and delicious vegetarian fare. Enjoy a peaceful dining experience while relishing the flavors of Indian vegetarian cuisine.
Luxury Hotels In Jaipur
Jaipur, the vibrant capital city of Rajasthan, offers a range of luxurious hotels that provide impeccable service, opulent accommodations, and a taste of regal hospitality. Here are some renowned luxury hotels in Jaipur:
Rambagh Palace (5 stars, Rs. 10,000-20,000):
As a former royal residence, Rambagh Palace exudes grandeur and luxury. This opulent 5-star hotel offers lavish rooms, exquisite dining options, and impeccable service, creating a truly regal experience for guests seeking a taste of Rajasthan's royal heritage.
The Oberoi Rajvilas (5 stars, Rs. 20,000-30,000):
Nestled amidst lush gardens, The Oberoi Rajvilas offers a tranquil retreat with its luxurious villas and tents. With its impeccable architecture, indulgent spa, and fine dining options, this 5-star hotel provides a serene oasis for guests seeking relaxation and rejuvenation.
Taj Amer (5 stars, Rs. 15,000-25,000):
Situated near the majestic Amer Fort, Taj Amer offers a blend of modern luxury and Rajasthani charm. With its elegant rooms, delightful restaurants, and stunning views of the fort, this 5-star hotel provides an enchanting experience for travelers.
ITC Rajputana (5 stars, Rs. 10,000-15,000):
ITC Rajputana combines contemporary comforts with Rajasthani hospitality. With its spacious rooms, multiple dining options, and rejuvenating spa, this 5-star hotel caters to both leisure and business travelers seeking a comfortable and convenient stay.
Jaipur Marriott Hotel (5 stars, Rs. 7,000-10,000):
The Jaipur Marriott Hotel offers a blend of elegance and modern amenities. With its stylish rooms, diverse dining options, and well-equipped fitness center, this 5-star hotel caters to the needs of discerning travelers seeking both comfort and convenience.
The LaLiT Jaipur (5 stars, Rs. 10,000-15,000):
The LaLiT Jaipur offers a luxurious retreat with its well-appointed rooms and world-class facilities. With its array of dining options, spa services, and a stunning outdoor pool, this 5-star hotel ensures a memorable stay for guests seeking indulgence and relaxation.
Adventure places in jaipur
While Jaipur is predominantly known for its historical and cultural attractions, there are also some adventurous activities and places to explore. Here are a few adventure options in Jaipur:
Amer Fort:
Explore the adventurous side of Amer Fort by embarking on a thrilling elephant safari up to the fort. Traverse the rugged terrain and soak in the panoramic views as you ascend to this magnificent fortress, creating a memorable and adventurous experience.
Nahargarh Fort:
Nahargarh Fort offers exciting adventure opportunities, including a zip-lining experience. Soar through the air on a zip-line, enjoying an adrenaline rush and breathtaking views of the cityscape below, making your visit to the fort an unforgettable adventure.
Jantar Mantar: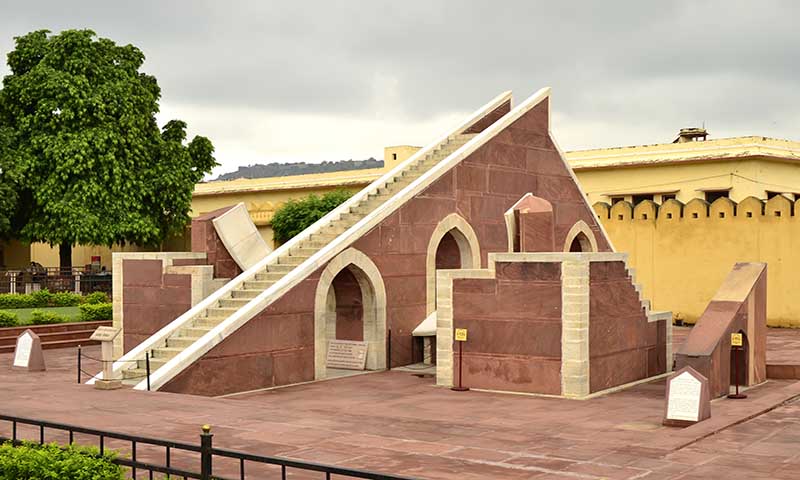 While Jantar Mantar is primarily known for its astronomical significance, it also offers a unique adventure for astronomy enthusiasts. Participate in guided night sky observation sessions to witness celestial wonders and learn about the stars and planets, adding an element of excitement to your visit.
Sanganer:
Sanganer, a town near Jaipur, is famous for its adventurous activities like hot air ballooning. Take to the skies and enjoy a thrilling ride over the scenic landscape, gaining a bird's-eye view of the surroundings and creating a truly adventurous experience.
Jaipur Safari Park:
At Jaipur Safari Park, immerse yourself in the wilderness with an adventurous jeep safari. Explore the park's diverse flora and fauna, spot wildlife, and capture unforgettable moments amidst nature's beauty, making it an exhilarating adventure for wildlife enthusiasts.
Elephant Safari:
Experience the thrill of an elephant safari in Jaipur. Ride on the back of these gentle giants and venture into the wilderness, traversing through lush landscapes and discovering the natural beauty of the region, creating a unique and adventurous expedition.
Best time to visit Jaipur
The best time to visit Jaipur, the capital city of Rajasthan, is during the winter months, from November to February. Here's a breakdown of the seasons in Jaipur:
Winter (November to February): The winter season offers pleasant and comfortable weather, making it the most favorable time to visit Jaipur. Temperatures range from 8°C to 25°C (46°F to 77°F), and the days are sunny with cooler evenings. It's perfect for exploring the city's attractions, including the palaces, forts, and markets, without being overwhelmed by the heat.
Summer (March to June): The summer season in Jaipur can be extremely hot, with temperatures soaring as high as 45°C (113°F) in April and May. The scorching heat makes outdoor activities and sightseeing uncomfortable during this time. However, if you can bear the heat, you might find lower hotel rates and fewer crowds.
Monsoon (July to September): Jaipur experiences monsoon showers from July to September. The city receives moderate to heavy rainfall, which brings relief from the summer heat. While the rain can be sporadic, it adds a refreshing touch to the city's landscapes. However, some outdoor activities may be limited during heavy rains.
Considering the pleasant weather and comfortable temperatures, the winter season is generally considered the best time to visit Jaipur. You can enjoy exploring the city's attractions without the scorching heat of summer. However, if you don't mind the heat and prefer fewer tourists, you can consider visiting during the summer months as well. It's always advisable to check the weather forecast and plan accordingly for a comfortable and enjoyable visit.
How to reach Jaipur:
By Air: The Jaipur International Airport, located approximately 12 kilometers from the city center, has regular flights connecting Jaipur to major Indian cities like Delhi, Mumbai, Kolkata, and Bangalore. From the airport, you can take a taxi or hire a car to reach your desired destination in Jaipur.
By Train: Jaipur Junction is the main railway station in Jaipur and is well-connected to major cities across India. Several trains, including Rajdhani and Shatabdi Express, operate to and from Jaipur. The train journey offers a comfortable and scenic way to reach the city.
By Road: Jaipur is well-connected to major cities in Rajasthan and neighboring states by road. National highways and state highways make traveling to Jaipur by car or bus convenient. You can either drive to Jaipur or take a bus from cities like Delhi, Agra, Udaipur, or Jodhpur.
Within the City: Once you reach Jaipur, you can use local transportation options like auto-rickshaws, cycle-rickshaws, taxis, and app-based cab services to get around the city. Jaipur also has a well-connected public bus network operated by the Rajasthan State Road Transport Corporation (RSRTC).
Jaipur City Map